March 2019
| Sun | Mon | Tue | Wed | Thu | Fri | Sat |
| --- | --- | --- | --- | --- | --- | --- |
| | | | | | 1 | 2 |
| 3 | 4 | 5 | 6 | 7 | 8 | 9 |
| 10 | 11 | 12 | 13 | 14 | 15 | 16 |
| 17 | 18 | 19 | 20 | 21 | 22 | 23 |
| 24 | 25 | 26 | 27 | 28 | 29 | 30 |
| 31 | | | | | | |
Calendar


I've been working on filling out my National Dex and have been breeding some pokemon and then this happened.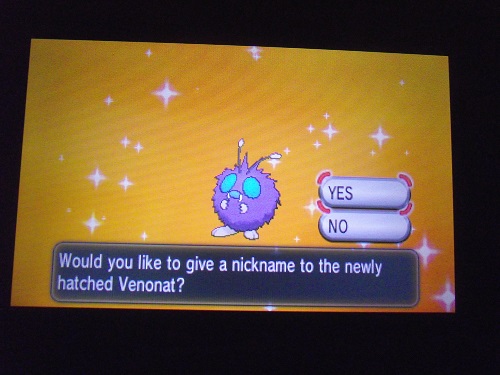 And I may as well group another sorta topic here by saying the interface for trading in X and Y is godawful when it comes to bartering with random people! It's good if you and the other person know what to trade for but you can forget trying to smoothly bargain with someone else while mute. I liked Black and White's idea with using the little emotes to convey whether "yes, I would like that" or "no, I don't want that". I should probably just have some fodder pokemon nicknamed to say "Yes" and "No" instead of waiting a long ass time to hope they get the message I don't want what they're offering. It seriously makes me feel like an asshole.



Posts

: 166


Join date

: 2012-11-02


Age

: 25


Location

: Anywhere but the desert



Goddammit.
Also, that would probably be a good idea. Maybe next game.
I hate you.
That's a good idea.



Posts

: 453


Join date

: 2012-10-29



Venomoth is also good which is the biggest bummer of all. Up 'till now you haven't gotten super-great shiny Pokemon.
Well, I'm almost done with my National Dex so I'll be able to get the shiny charm. I'm actually really excited since I don't think I've ever completed the national dex ever before.

And I've always had a bit of an appreciation for Venomoth. It looks pretty cool but it's usually sitting in the corner because everyone else is going on about their Ninetales or Arcanine. It's a little under appreciated but now I have a blue one and that's pretty awesome.



Posts

: 166


Join date

: 2012-11-02


Age

: 25


Location

: Anywhere but the desert



Venomoth is one of the best Quiver Dancers in the game, next to Lilligant and Volcarona.

---
Permissions in this forum:
You
cannot
reply to topics in this forum